Editor overview
Here is a quick snapshot of the Kappa editor. See the numeric labels to understand what they do below.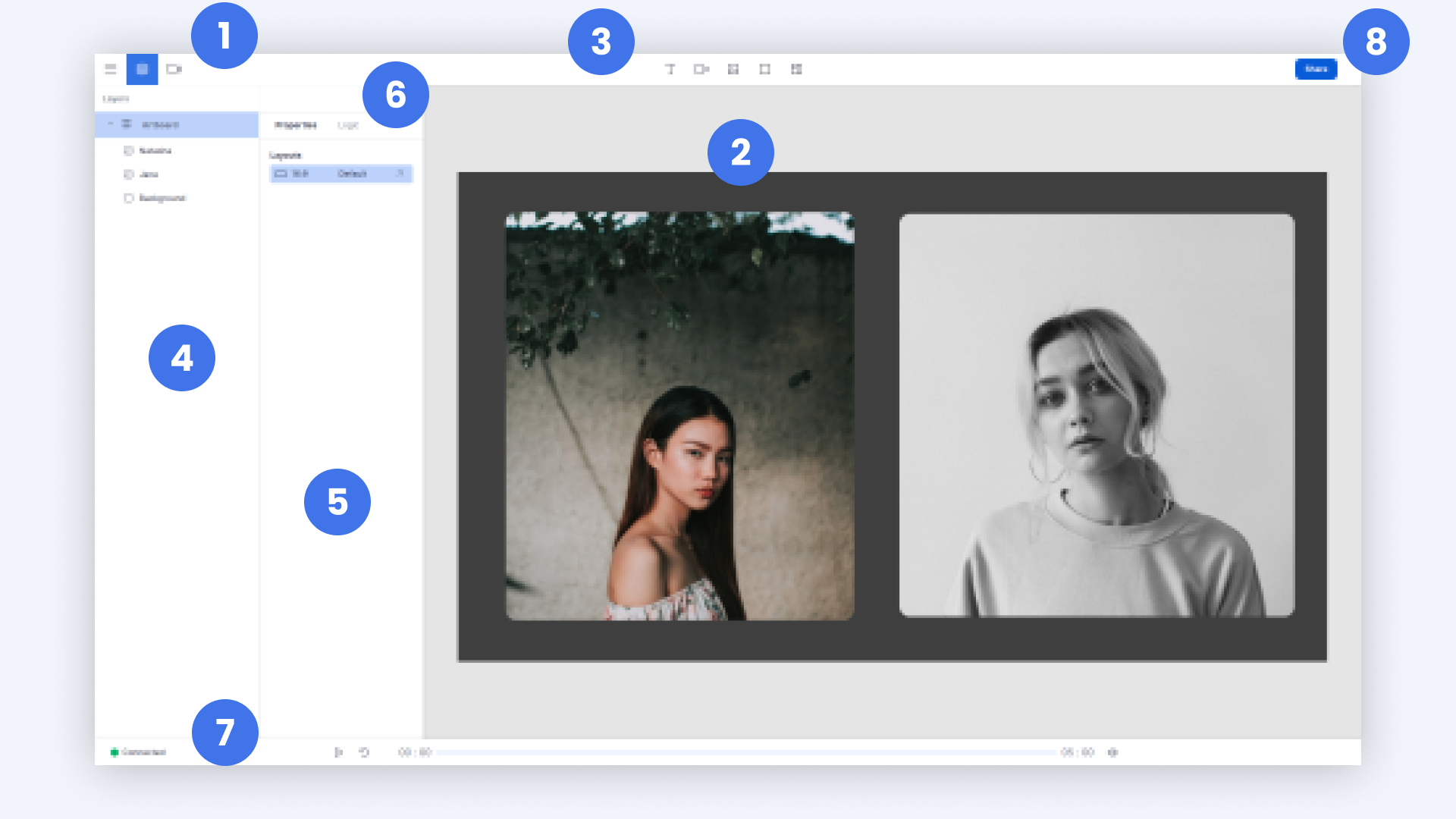 1. Main menu
This is your main navigation for the project. It houses
a. Version history - First from left
b. Interaction designer - Second from left
c. Content manager - Last tab
Check the image below for reference.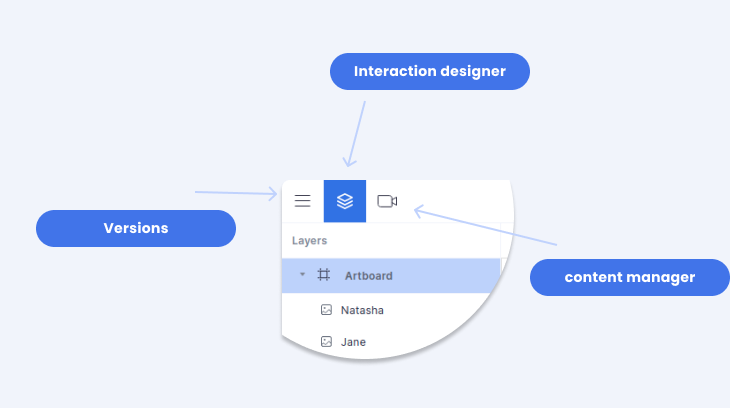 2. Artboard
This is the main element of your project. It houses all layers inside it. You can draw layers on top of the artboard and arrange them into a layout. You can pan and zoom to visually edit layers on top of the artboard. Kappa artboard is WYSWYG (What you see what you get) in nature. Every layer drawn is published as it is shown on the arboard.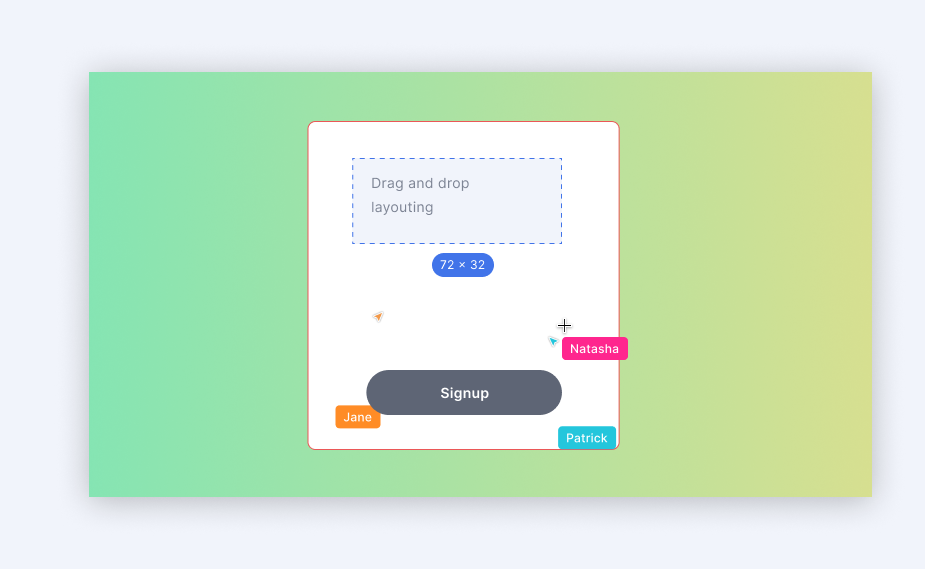 3. Elements
In the middle of the top bar, you will find the icons of basic elements that can be used to create an interactive experience. Add an element to the project by clicking one of the options below.
Text
Video
Image
Shapes
Group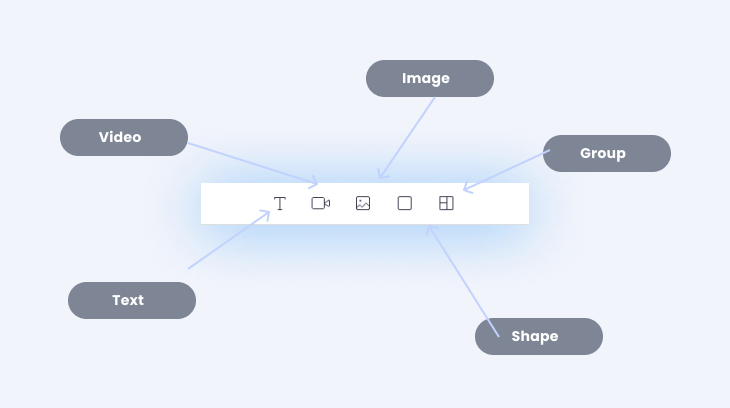 4. Layer panel
All the elements like text video, images, added to the project appear on the layer panel. It works just you would expect any layer panel to function. You can drag layers to change the stacking order.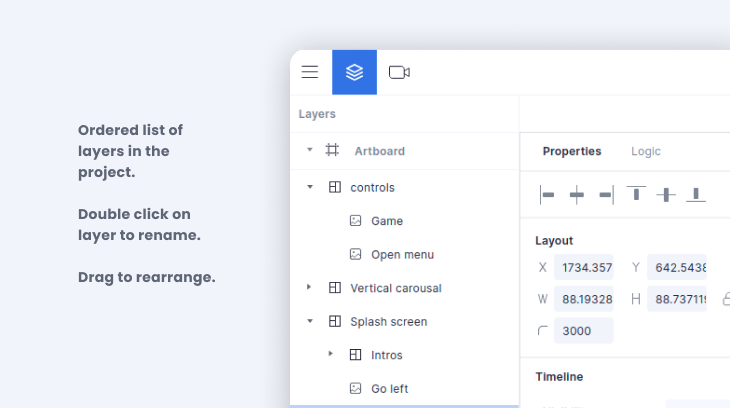 5. Properties panel
It shows the properties of the selected layer. You can position, style, or edit the element using this panel. Each section on the panel corresponds to a property type. Example

Layout properties
X - is the position of a layer from left with respect to its immediate parent layer in the hierarchy.
Y - is the position of a layer from the top with respect to its immediate parent layer in the hierarchy.
W - is the width of a layer in pixels
H - is the height of a layer in pixels
Follow this link for in-depth details about layer properties and how they work.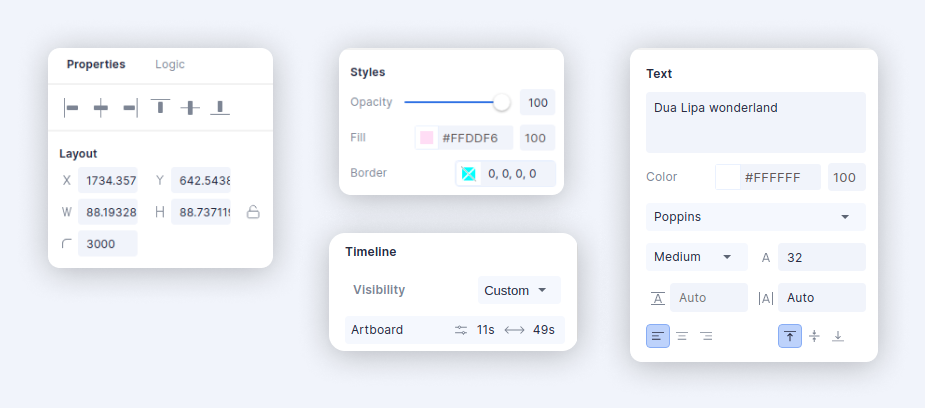 6. Logic panel
Add interactivity to your layers by adding logic to them. You can access the logic panel by selecting a layer and switching to the logic tap from the properties panel.
Your interactivity logic starts with a trigger. It can be a click, drag, swipe, or any event that is happening on the artboard.
For each trigger, you can write a set of rules and actions. For better organization, you can split your actions into multiple blocks.

Follow this link to learn how to write logic.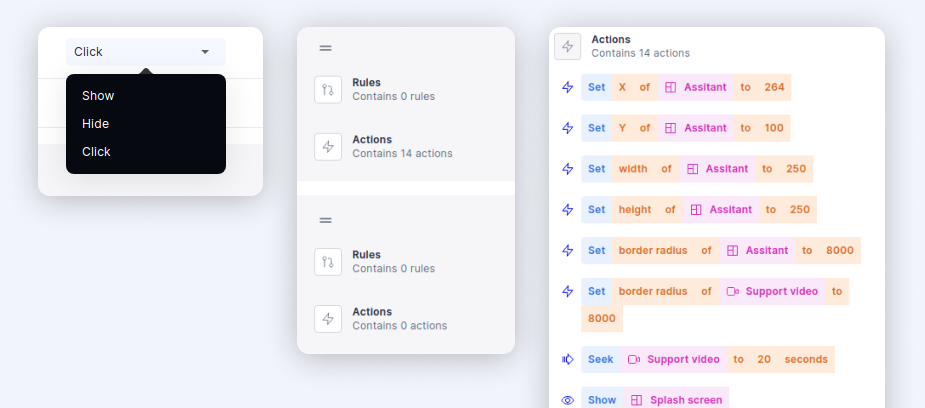 7. Preview
Done with your creation? Play and interact with it in preview mode. Click on the play button to toggle between preview and edit mode.
While previewing, you will not be able to select a layer to edit. See the video below.


8. Share & publish
Click on the Share button on the right side of the top bar. It will open the project in your console. You can easily publish the work from here.